2015. All rights reserved.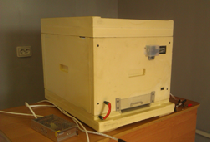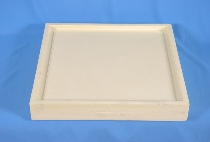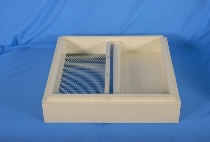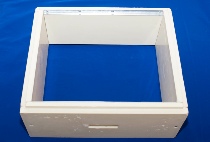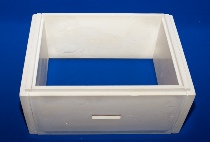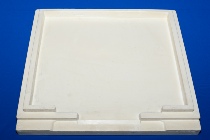 All beekeepers knows how important, for maintenance and inspection of hives in early spring and fall, is to conserve the heat in the nest of bee colony. In beehives from FoamedPolyurethane in wooden "ceilings" there is no need at all. We offer you a convenient cloak for hive of foamed polyurethane. When using cloak during checking beehive from PPU it is enough to open a necessary part of the body, and another part will be covered, this will keep the heat and bees calm.
We offer to your attention our new product:
HEATCHAMBER FROM PPU used for growing queen bees. Made on the basis of 10-frame beehive.
Heat chamber from PPU is equipped with:
1. operating-controller used for determining the temperature inside the chamber
2. Battery level sensor
3. Network rectangular connector (12W) for connection to AC power or batteries connector is round to supply to tens(12 W)
The voltage converter 220V → 12V when powering from the main power supply
Feeder (Universal feeder, can be installed over any of the Body of beehive (usually on upper Body under the roof). Designed to be used 2 types of feed: solid and liquid. The total volume of the feeder for 12-frames beehive – 5l, volume for liquid part up to 4l; Total volume of the feeder for 10-frames beehive — 4 l, volume for liquid part up to 3l. If you will drill small hole in the side wall of the feeder and install reservoir, will make possible to add feed without opening the roof of the beehive (we recommend to scratch the plane of feeder, on which bee goes to liquid feed, with sandpaper to create a rough surface)).
Bottom, equipped with mesh and latch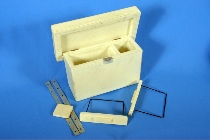 Single micronucleus for 2 frames with feeder. Taphole and landing pad is to be made by beekeeper with accordance of his technology of beekeeping. To ensure bee queen with solid feed it is enough to place a plastic cup inside.
False back (blind frame) board for beehive from PPU for 230 body. False back (blind frame) for beehive or separating board from PPU, used for separating nest of beehive colony from free place of beehive or separating space of beehive for parts, for example, when breeding, nucleus. Sizes 45,4 cm (47,4cm with «hangers») х 23,6cm х 2,5cm(along the contour).Reminding you that the material can be easily grooved (cut), in case if your beehive "squeezed", False back (blind frame) board from PPU may be cut for sizes of your beehive without damaging properties of material.
False back (blind frame) board for 300 body.Sizes 45,4cm (47,4cm with «hangers») х 30,5cm х 2,5cm(along the contour).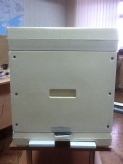 8-frame beehive full complete set (complete bottom, body with metal corners and roof). The roof of the hive is made with the possibility to put one hive to another. To the bottom and into the body were added metal inserts to make it easier to open with the crowbar when beehive is sticked with propolis.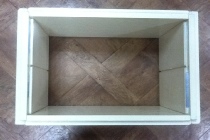 Body 8-frame hive, equipped with metal corners under the "hanger" for frames.